Sometimes you just want to deviate from the same old routine, leave your kitchen, and delight in a meal that is entirely different than what you would usually prepare for yourself, friends, or family.
That's when you should take a stroll over to Hylan Boulevard on the East Shore in the Dongan Hills section and seek out the Zara Café Grill on the corner of Jefferson Avenue.
Whether to-go or eat-in, choosing a selection from the classic Turkish menu can be a difficult, but tantalizing, choice among the many freshly prepared ethnic dishes, such as gyros, kebabs, grilled shrimp, whole Branzini (European bass), Manti (lamb ravioli), or a deep-fried falafel dinner, to name a few. Of course, you may want to start your meal with a cheese roll, baba ganoush (eggplant dip), stuffed grape leaves, acili ezme (veggie dip), or hummus as an appetizer. Don't forget to order the lentil or chicken soup along with a Mediterranean, Tabule or Shepherd salad and homemade hot, toasted Turkish bread.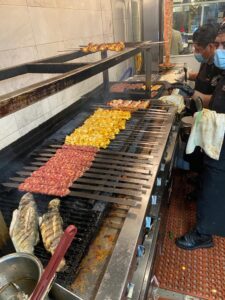 Most likely, savory centuries-old eatables like these originated during the Ottoman Empire dynasty (1299 – 1922) according to a 1948 book by Süheyl Ünver called "Fifty Dishes in Turkish History." He actually found recipes in an 18th century Ottoman manuscript, but it was earlier, around the mid-1400's, that exotic ingredients began being imported from other lands to create these exquisite food combinations. Turkish, Byzantine, Balkan, Armenian, Kurdish, Arab, and Persian influences became staples of Ottoman cuisine for a vast empire that encompassed Western Asia, Southeastern Europe and Northern Africa for more than 600 years. That could by why Turkish food is so delicious.
Think you can replicate the distinctive fare that Zara Café Grill creates? Maybe, but why bother when your taste-buds are yearning for authentic cuisine from a land known for rich, piquant delicacies and prepared by chefs who once lived there? Without even leaving the borough, you can experience a varied menu of soups, meat and vegetable plates, appetizers, and desserts as if you were traveling through the Republic of Turkiye. (Yes, the familiar "Turkey" spelling of the country was recently nation-branded to "Turkiye.")
Planning a dinner party or special occasion? Use the convenient Zara Café Grill order form on its website, which lists a plethora of selections. Need an exceptional treat after the meal? Well, instead of baking your own cake or pie, indulge your guests with exciting Turkish delights such as puddings with exotic names like kazandibi (caramelized milk) and keskul (almond-based), or pastries like kenefe (sweet cheese) and baklava (layered filo with chopped nuts).
Just need a pick-me-up or beverage break? Skip the big chains and try a cup of Turkish tea, Uludag Gazoz (carbonated lemonade) or a frothy, salty ayran yogurt drink to satiate your craving. Brag to your friends or co-workers that you now have a new favorite liquid refreshment and you will surely be buying more than one on your next visit to Zara.
Restaurant owner Ramazan Avci suggests and encourages moving beyond typical fare, and trying new food options when dining out.
"It's a great loss if you have never tried Turkish food," he said. "It is unique cuisine from the Mediterranean."
With his brother Zafer, Ramazan emigrated from the coastal port city of Mersin in the Republic of Turkiye in 2005 where the two first began their culinary partnership with Vefa Fast Food. Today, they work the Staten Island kitchen together with two other brothers, while their families tend to the customers. Since their restaurant opened in 2017, Zara Café Grill has offered patrons a taste of their home country specialties every day from 10 a.m. to 11 p.m., Monday through Sunday in a welcoming, airy setting featuring a glass windowed wall around the outer perimeter. During the warmer months last year, outdoor seating was available.
The restaurant is located at 1995 Hylan Blvd. For more information visit www.zaracafegrill.com or call 718-979-6122.