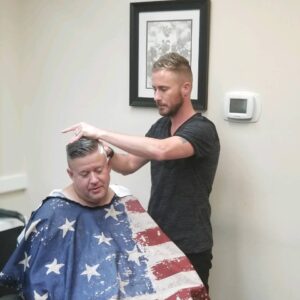 Visiting the barbershop is a time-honored tradition that holds fond memories for men of all ages. More than a place to get a haircut, shave, or other grooming service, these community staples provided a place where customers could make memories, talk to friends, socialize, discuss the latest news, or just relax. Although the modern barbershop has evolved with the times, these neighborhood institutions today are built on the same values that were established generations ago.
A contemporary shop with the traditions of old-time barbering, Timmons Barber Shop provides classic and modern haircuts for men and boys. In the more than two decades since the shop has been open, it has become one of Gloucester County's most recognized businesses and a beloved staple in the Washington Township community.
Timmons Barber Shop focuses on elevating each guest's personal style with refined services and products in a clean, inviting environment while maintaining the highest standards of quality. For owner Robert Timmons, whose passion always has been the history and future of Washington Township, opening the shop was the culmination of a lifelong dream.
"I moved with my family to Washington Township in 1963, grew up here and always wanted to have my own business here," he said.  "I opened up this barbershop first and then followed that with opening three others in Pittman, Williamstown and Blackwood, which I ran for several years as well. Today, my flagship location remains, and we will be celebrating our 25th anniversary here next March. I am grateful for the community's support and genuinely love my job and love watching generations of families grow. I gave many clients their first haircuts and am now giving the children of those clients their first haircuts."
Timmons prides himself on providing exceptional customer service, which he sees as the key to a successful business.  Services at Timmons Barber Shop include men's and boy's haircuts, beard trims and old-time straight razor shaves. Customers enjoy a straight razor and hot towel after every cut. The shop offers special discounts to senior citizens.
"Visiting a barbershop is a very rich tradition for many grandfathers, fathers and sons," Timmons said. "People have fond memories as a child of going to the barbershop with dad or grandpa, and of getting their first haircuts. From our services to our atmosphere, we really bring that 'old time' barbershop feeling back.  A hot towel with every cut isn't the type of service that you get at a 'typical' salon but really adds to the overall experience here."
Being involved with and serving the community is a vital part of Timmons Barber Shop's mission as a small, locally owned business, and is a priority for Timmons both personally and professionally.
He is a former president of the Washington Township Chamber of Commerce and over the years has served on numerous boards and committees within the township.  He was named Washington Township's "Man of the Year" by the Chamber of Commerce Executive Board in 2017, and "Citizen of the Year" in 2010. In 2017, he was named Grand Marshall of the Township's Fourth of July parade. For many years, the shop has been a "Best of Washington Township" winner in the personal care category.
Timmons Barber Shop is located at 273 Egg Harbor Road in Sewell and is open Mondays from 9 a.m. to 6 p.m., Tuesday to Friday from 9 a.m. to 8 p.m., and Saturday from 9 a.m. to 4 p.m. It is closed on Sunday. To schedule an appointment, call (856) 218-0700. Guests also can schedule and manage their appointments via the Genbook app.