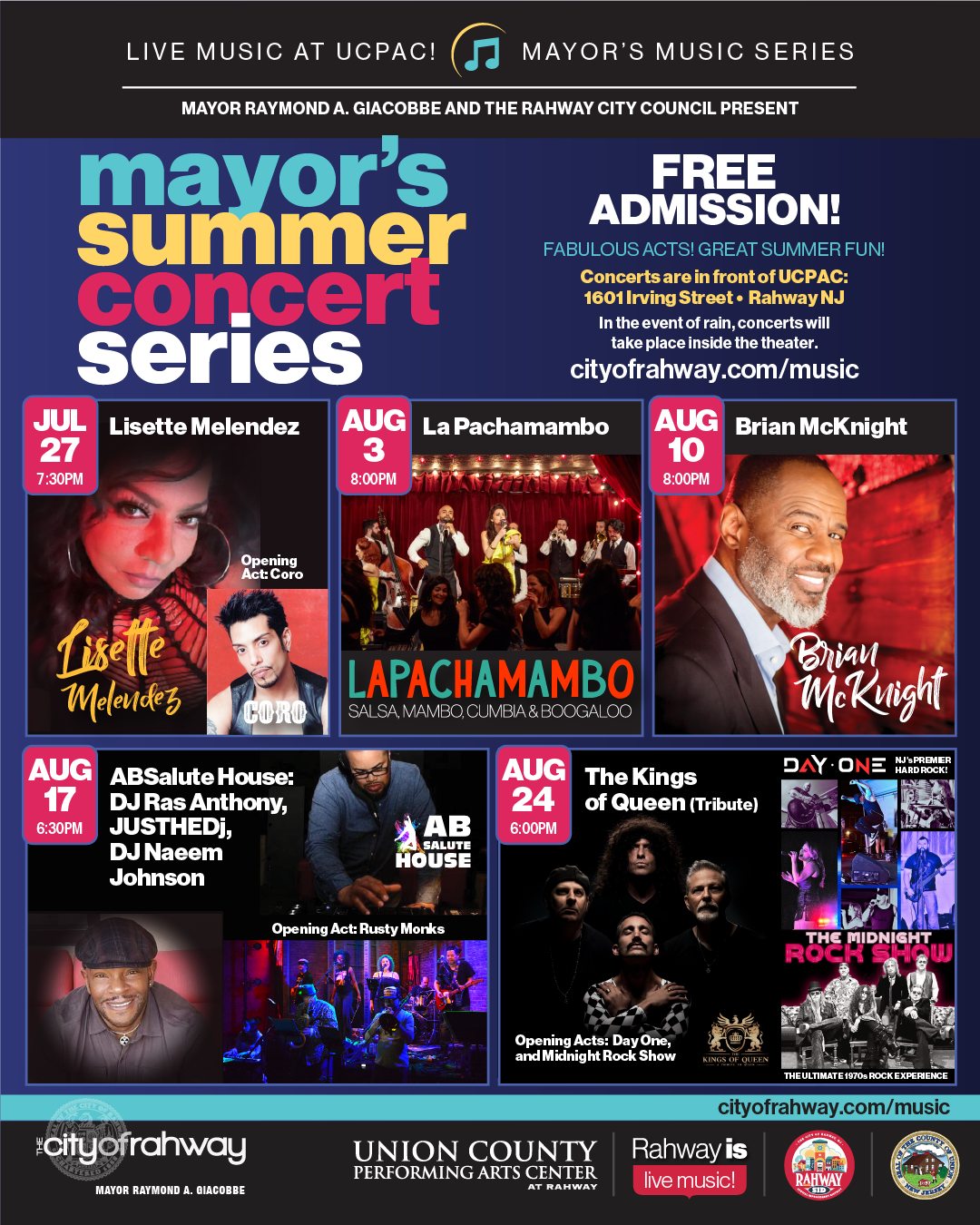 Mayor Raymond A. Giacobbe and the Rahway City Council are excited to announce the return of the Mayor's Summer Concert Series on Thursdays through Aug. 24 in front of the Union County Performing Arts Center, located at 1601 Irving St.
These free performances feature a star-studded line-up of musicians to shine a spotlight on Rahway's unique arts scene with a diverse mix of genres, perfect for all music lovers.
On Aug. 10 at 8 p.m., award-winning and Grammy-nominated R&B artist, Brian McKnight will bring his talents to Downtown Rahway. With 16 Grammy Award nominations and numerous chart-topping songs, McKnight has established himself as a musical legacy with more than 30 million albums sold worldwide. His most well-known hits include "Back At One," "6, 8, 12," and "Anytime."
On Aug. 17 at 6:30 p.m., Rusty Monks will open the show with their one-of-a-kind fusion of Blues, Jazz, Funk, Rock, and Latin Jazz. This ever-changing ensemble, led by seasoned New York City performer and artist Housecat Nick, will provide funky beats and catchy grooves that will get the crowd moving. AB Salute House will close out the night with Rahway's own DJ JusttheDj and DJ Naeem Johnson. House music continues to grow in popularity in Rahway's music scene with AB Salute House at the forefront to keep the party going.
The Mayor's Concert Series will come to a close on Aug. 24 with a high-energy night of rock and roll starting at 6 p.m. New Jersey's hottest hard rocking cover band, Day One, will open the show and break out hits from the 80s all the way through to today's music.
The Midnight Rock Show will go on second and unleash a memorable concert-style performance that is a true nod to the 70s FM Rock Radio DJs and deep album cuts.
The show will end with an opportunity to relive the magic of Freddie Mercury and Queen, as the nation's top Queen tribute band, The Kings of Queen take the stage with a live performance that the legendary band would be proud of.
Coro and Lisette Melendez kicked off the Mayor's Concert Series with a night of Latin freestyle music. With a career spanning more than 30 years, Coro has proven himself to be a major force in the world of dance music with hits such as "Where Are You Tonight," "Can't Let You Go," and "My Fallen Angel." Lisette Melendez has had a significant impact on the freestyle and Latin pop scenes since 1990 following her breakthrough single "Together Forever." Her powerful and soulful voice combined with infectious hooks and energetic beats has contributed to her success for over three decades.
The concert series continued Aug. 3 with Pachamambo, a 10-piece Latin orchestra dedicated to the meticulous restoration and revival of salsa, mambo, and boogaloo hits of days gone by.
In the event of inclement weather, the performances will move inside the Union County Performing Arts Center. For more information, please visit www.CityofRahway.com/music.