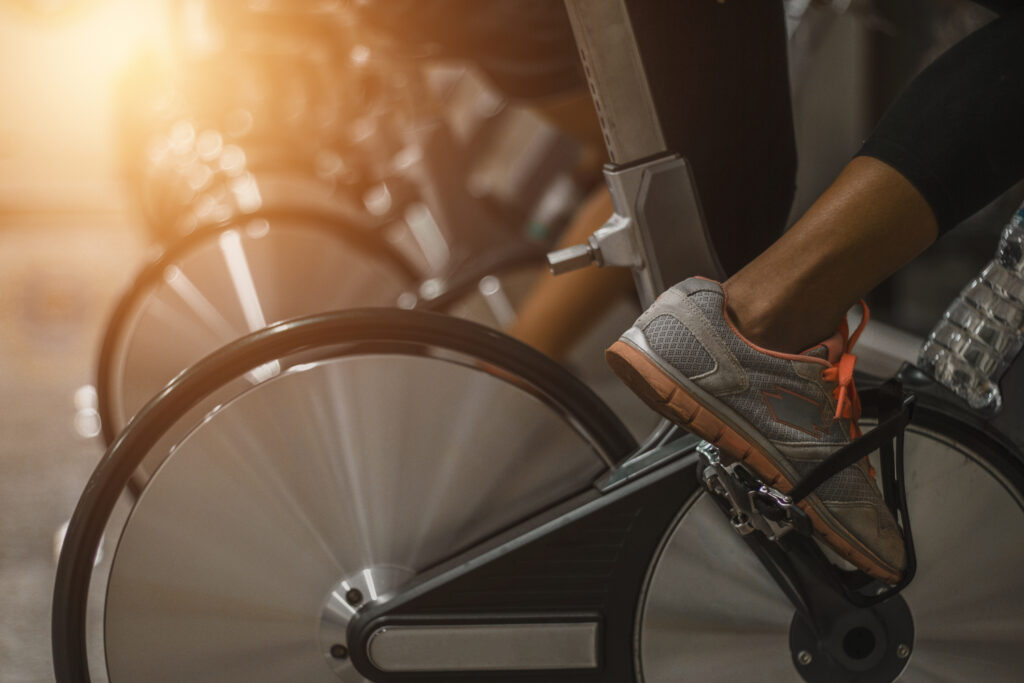 Intoxx Fitness Clubs, The GRACE Foundation and Gotham Trinity Productions announce the creation of the first live community event, "GRACE-ful" Spin in conjunction with local community businesses across Staten Island.
The Graceful Spin will be part of Intoxx Fitness Clubs 25 years of customer appreciation day.  On May 8, three clubs (Grasmere, Oakwood and Tottenville) are celebrating customers and many will be spinning for Autism Spectrum Disorder and The GRACE Foundation.  The Tottenville location will host the live event with spin bikes set up outside for a scheduled spin (rain or shine beginning at 10:30 a.m. to 2:30 p.m.).  You must pre-register for the event and the cost is $85 (with a chance to win a Peloton Bike with proceeds going to The GRACE Foundation). Spinners will receive a swag bag and the "I Spin for Food Card."  There will be additional raffles on hand for all to take part in.
Four spin sessions are available beginning at 10:30 a.m.  (40 spinners per session)
first come, first served
$85 includes the Live Spin at a registered time, Peloton raffle, entry into all additional raffles, and  the "I Spin for Food, Restaurant Card" swag bag
$50 includes entry into Peloton raffle, entry into all additional raffles, and "I Spin for Food Restaurant Card"
$25 entry into all additional raffles, and "I Spin for Food, Restaurant Card
In addition to the spin, CKO Kickboxing will be part of the day with various kickboxing classes.
$20 per kickboxing class (outdoor scheduled time) or,
$100 for Spin/Kickboxing combo (will include "I Spin for Food, Restaurant Card," entry in Peloton bike, swag bag, additional raffles)
Intoxx Fitness Clubs have been serving Staten Island for 25 years and would like to thank the community for contributing to its great success. The "Muscle team"  at Intoxx include Rosario DeBernardo, Bruce Daniele, Carlo Lasorsa and Michael Gilotti.
While the spin is in progress, there will be a live broadcast from all three Intoxx Clubs powered by Gotham Trinity Productions.  There will also be music and a live DJ supplied by Island Entertainment. All three Intoxx Centers will have trays of food supplied by Montalbano's, and Country Donuts will be on hand with donuts decorated for Autism Acceptance Month.
Gotham Trinity Productions will "spin" the event literally to life with a live broadcast to Facebook, YouTube and Instagram Live with an occasional TikTok.  ""It is great to see so many local businesses come together for a great cause," Bivona said "We are proud to be sharing this event, LIVE, online, for anyone that cannot make it in person."
Gotham Trinity Productions has played an instrumental role in many businesses across Staten Island lending their creative production approach for video projects, commercials and various creative content.  Todd Bivona and Michael Graziuso will be leading the Live Spin Stream with various Broadcast and commercial opportunities.
If spinning is not your thing, then there is always another path to turn to, without losing your breath.  It's called "Spin your Wheels." It's a car-friendly opportunity to spin your wheels to various restaurants for a free appetizer, dessert, perhaps a drink, when you donate $25 to the GRACE-ful Spin. Rabs Country Lanes and Honda Staten Island will also have bikes at each location where you can donate $25 and spin for a challenge and a special prize at that site.  You will receive an Official Restaurant Spin certificate – "I spin for Food, Restaurant Card"  with various restaurants that are participating for the cause. (list includes Baci, Nino's, Del Luca's, Max Esca's, Campania, Jimmy Max, Bario's, Cafe Ungaro, La Fontana, Nucci's, Aunt Butchie's, Pizza Parlor, The District, Republic, Reggiano's, and more to follow).
Whether you spin on a bike or spin your wheels in your car, you are supporting local businesses and bringing the community together for one of the first live community events since the beginning of the pandemic.
Community partners involved are Gotham Trinity Productions, Intoxx Fitness Clubs, CKO Kickboxing, Tekie Geek, Rabs Country Lanes, Island Entertainment, Honda Staten Island, No Limit Auto Body, SIEDC, SafeGuard and ShopRite.
"This collaborative effort is something we take great pride in.  Our involvement with Autism Acceptance month has always been part of our philanthropic platform, and we welcome the partnership with GRACE. We believe in the mission and the individuals that GRACE serves" said Carlo Lasorsa, owner of Intoxx, Tottenville.
The GRACE Foundation's mission is to support, enhance and empower all individuals and their families living with autism spectrum disorder.  Celebrating 21 years in the community, GRACE is very proud to foster life-long relationships with all involved in this event.  Community is an important part of what makes GRACE thrive. As the rate of autism is on the rise – today 1 in 54 – the demand for services is continuously growing at a staggering rate.
"This project came together at our conference table at The GRACE Foundation. The  concept of the event flourished with enthusiasm and everyone around that table had  sincere passion for the cause.  We want to thank our friends and team at Intoxx and Gotham," said Helen Duchene, executive director of GRACE " and we look forward to growing  this event every year."
Follow all the updates on the spin at:
https://www.facebook.com/GRACEofNY
https://www.facebook.com/IntoxxFitnessTottenville
https://www.facebook.com/Intoxx.Grasmere
https://www.facebook.com/IntoxxFitnessOakwood
http://www.facebook.com/GothamTrinityProductions
And when you ride for the cause, send in your pictures  #intoxxgracefulspin
To pre-register for the live spin event at Tottenville, visit www.graceofny.org and click "in" to register. To donate in order to receive the "I Spin for Food Restaurant Card," visit the various hubs or go to www.graceofny.org
There are various time slots to register as well as additional sponsorship opportunities. For sponsorship opportunities, call Cathy at 718-983-3800 or visit the sponsorship link on www.graceofny.org  entitled GRACE-ful Spin.