Buying an auto garage during a worldwide pandemic isn't for the faint-hearted, but Jay King, the new owner of Bob's Garage in Sewell, doesn't regret it.
"I plan on being here for the long haul," King said. "I plan on building and keeping the excellent reputation that Bob built over the last 40 years."
King, who is from Delaware County, Pa., bought the garage from Bob Holshue last July. And while he may be new to Bob's Garage, he's not new to the car repair and maintenance industry.
In fact, he grew up in the business, learning his trade from an early age at his father's repair shop. And, as soon as he was able to, he purchased his own shop, first one near Holmes, Pa., and then later in Swarthmore. It's been more than 30 years since then.
While working on cars is something he enjoys, King said it's helping his customers that is truly rewarding.
"I enjoy being able to educate customers about their cars. Not everyone is the average person that drives 12,000 to 15,000 miles a year. Some are off-the-charts low, some are off-the-charts way high and it's up to me to figure out a reasonable maintenance schedule … and make the best decision for them for that particular car."
Speaking of Maintenance
A significant portion of the services offered at Bob's Garage are maintenance related, because it's critically important to the life of a car.
"If people would follow the maintenance schedules of their car and have things checked and replaced periodically, they would find that their cars would last considerably longer," King said.
How does he know people are ignoring the maintenance of their cars?
They wait until their check engine lights are on. Something he and his service guys see a lot.
"The number one thing people need to do is replace their filters when suggested by their automotive professional," he added.
Oil filters, air filters, cabin filters. They're crucial for the wellbeing of cars and trucks.
Any time you come into Bob's Garage with a problem or for an oil change, they'll check your air and cabin filters as well. On average, King said they need to be replaced every 15,000 miles or so.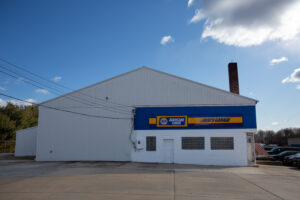 Services
Services at Bob's Garage include auto maintenance and repair, engine service and repair, oil changes, brake repair and replacement, and tire rotation, wheel alignment, suspension repair and tire replacement.  Additionally, they offer a minimum one-year warranty on all parts and labor.
Want help determining the right maintenance schedule for your car? The technicians at Bob's Garage can help.
Every made and model of car is different. At Bob's Garage they try to adhere to the schedule for each particular car.
Turnaround times for car repairs vary, but due to COVID-19, King said getting some parts takes longer than it used to.
The shop does offer a neighborhood courtesy shuttle for customers in the immediate area who need to drop off their car for the day but don't have another way to get to and from the shop.
A New Front Office
Though King's home is in Pennsylvania, he spends most of his time in New Jersey at Bob's Garage. He's currently refurbishing the shop and redoing the front office to be more comfortable for customers to wait in.
The new front office will have a flatscreen TV and Wi-Fi accessibility.
Bob's Garage is located at 236 Delsea Drive in Sewell. Hours are Monday to Friday, 7:30 a.m. to 6 p.m. For more information or to schedule an appointment, call 856-589-5055 or visit bobsgaragenj.com.