Glenn Korsnes works diligently day after day, six days a week, to make sure Charles Pfeiffer Inc. can supply its customers with the medical supplies they need. But things got difficult when COVID-19 struck.
Having served Staten Island for more than 62 years, the company has experienced similar situations — Sars, Ebola, Swine Flu — but nothing compared to the past year and a half. That experience ensured that customers would still be able to get their important medical supplies, as well as products needed to combat COVID-19.
In the beginning, Korsnes, who has been with the company for 26 years and took over as owner in 2018, was on the phone nearly non-stop with vendors trying to source items he knew people would need, such as face masks, hand sanitizer and disposable exam gloves. Little did anyone know that what many thought might last only a few months, would turn into a full pandemic still raging more than a year and a half later.
Founded in 1959 by Charles Pfeiffer, the establishment is Staten Island's oldest and most well-equipped durable medical equipment and medical supply store. As an essential business, Korsnes knew it would be imperative to remain open during the pandemic. Just because much of daily life shut down didn't mean the need for medical supplies went away. On the contrary, the demand grew.
People still suffered injuries and were in need of a wrist brace for a  sprained wrist or a walker boot for a fractured ankle, and customers would always need essential medical supplies just to survive, including wound care items and incontinence supplies. Bathroom safety items and compression stockings were still much needed. Additionally, the company supplied individuals recovering from COVID-19 with nebulizers, pulse oximeters, blood pressure monitors, incentive spirometers and more.
Korsnes also has been able to supply customers with much-needed face masks, hand sanitizer and disposable exam gloves throughout the pandemic, even when those items were nowhere to be found, and online shoppers were facing price-gouging. Word spread fast that Charles Pfeiffer Inc. had these scarce items in stock and people who came to purchase them were elated that they were able to find them at all.  Early on, customers from as far away as Queens and even South Jersey came to Charles Pfeiffer Inc. for items they couldn't find anywhere else.
It's not only PPE that has seen a growing demand. Hospitals were (and still  are) discharging patients with a variety of ailments quicker than normal so they can recover in the comfort of their home, which has led to many needing an in-home hospital bed. Customers have the option to either purchase a new hospital  bed or rent one. Charles Pfeiffer Inc.'s in-house delivery team will bring the bed into a home, set it up, and provide instruction in how to use it.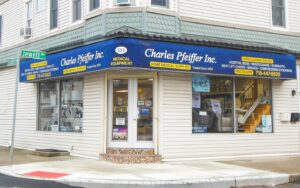 Stairlift machines also are becoming a necessity for individuals who reach a point in their lives where they can no longer navigate the stairs safely. Throughout the pandemic, Korsnes has continued to go to homes to measure stairs, speak with potential customers about the benefits of having a      stairlift, and guide them as to which machine is the best fit. Charles Pfeiffer Inc. has been installing and servicing stairlift machines for more than 40 years and is Staten Island's oldest stairlift installer. The lifts also are available either as a purchase or as a rental.
The store also carries a selection of seat lift recliner chairs for purchase or rent. These chairs are useful for individuals who struggle to stand up from a seated position or who are recovering from surgery. These chairs, manufactured by Pride Mobility, come in a variety of styles and sizes so there is a suitable chair for everyone and include built-in features.
Customers have also been coming to Charles Pfeiffer Inc. for scooters, wheelchairs, transport chairs, rollators, walkers and canes. There also has been a big demand for wheelchair rentals for those who just need one for  a weekend or for a special event.
Korsnes is thankful to the staff who showed up each day, especially during the height of the pandemic. Without the dedications of employees  including Ronan Bunsee, a 40-year-employee, the shelves wouldn't have stayed stocked, deliveries wouldn't have been made, and insurance claims would not have been processed.
For much of the pandemic, customers at Charles Pfeiffer Inc. were not allowed in the store, keeping elderly patients, those with compromised immune systems and caregivers with relatives who were at risk, safe. While customers are allowed back inside, Korsnes asks that all customers wear a face mask and continue to practice social distancing.
For those who prefer to remain contact free, Korsnes and his dedicated staff will gladly provide that service. Charles Pfeiffer Inc. also offers free delivery on Staten Island with a minimum $25 purchase.
Charles Pfeiffer Inc. is located at 511 Jewett Ave., in the Westerleigh neighborhood. For more information, call 718-447-6629 or visit www.CharlesPfeiffer.com. Charles Pfeiffer Inc. is open Monday through Friday from  9 a.m. to 5 p.m. and Saturday from 9 a.m. to 2:30 p.m.