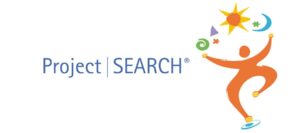 Jefferson Health – New Jersey has been named the winner of an international Project SEARCH "100% Outcomes Award" for its highly successful internship program for young adults with disabilities. The presentation took place at the recent Virtual Project SEARCH International Conference.
Project SEARCH is an international work-transition program that teaches job skills to young adults with autism and other developmental disabilities over the course of a school year, with a new group of student interns starting each fall. There are 623 Project SEARCH Programs in 47 states and nine countries.
This marked the fourth time Jefferson Health's program has been honored with a national award by Project SEARCH, and the first time it received the award for 100% employment. This is an especially significant achievement, as all 2020 program graduates found jobs during COVID – a time when so many others in the community were furloughed or laid off. One of 12 Project SEARCH programs in New Jersey, Jefferson Health – in conjunction with the Cherry Hill-based Y.A.L.E. School – was the only one to achieve100% employment outcomes for its 2020 interns.
In addition to being recognized for its outstanding results, members of the Jefferson Health Project SEARCH program were among those delivering presentations at the conference. Peggy Chapman, Y.A.L.E. School assistant director; Elizabeth Barrow, Steering Committee member; and Janeene Martin, JFCS Project SEARCH job developer, presented "To Work and Beyond: Insights for Maintaining Momentum Across Domains." The presentation focused on maintaining momentum when life's challenges get in the way of forward progress.
Ernie Laux, Y.A.L.E. School Project SEARCH instructor, and Jordan Wright, Project SEARCH 2021 graduate, presented "Intern Led Employment Planning Meetings," demonstrating how interns in the program lead their own employment meetings, learning essential self-advocacy and presentation skills. The international conference brought together more than 1,000 Project SEARCH program practitioners, partners, interns and families to learn and share best practices.
Project SEARCH at Jefferson Health – New Jersey is a collaborative program implemented by partners that include Jefferson, the Y.A.L.E. School, the NJ Division of Developmental Disabilities, the NJ Division of Vocational Rehabilitation Services, and Samost Jewish Family and Children's Service of Southern New Jersey.
In 2016, Jefferson Cherry Hill Hospital became the first site in southern New Jersey to partner with Project SEARCH. Project SEARCH interns at Jefferson work in a variety of departments, including Health Information Management, Patient Accounts, Storeroom, Food Service, and Environmental Services. Along with classroom instruction through the Y.A.L.E. School, interns use the skills they learn to help them find related positions that match their talents and interests.
Jefferson has hired several interns upon completion of their Project SEARCH internships. For more information about Project SEARCH at Jefferson Health, visit www.yaleschoolnj.com/about/project-search.
Project SEARCH was developed at Cincinnati Children's Hospital Medical Center, which is still the administrative headquarters for the organization. Project SEARCH is a business-led, one-year work-preparation program for young people with intellectual and developmental disabilities. Most participants are enrolled while transitioning from high school to work. The hallmark of Project SEARCH is total workplace immersion, which facilitates a seamless combination of classroom instruction, career exploration, and hands-on training. Project SEARCH's primary objective is to secure competitive employment for every program participant.
Y.A.L.E. School (Young Adolescents Learning Experience) is a New Jersey-approved private special education school with nine campus locations throughout southern New Jersey and the greater Philadelphia region serving students with disabilities ages 3 through 21. Across four of those campus locations, Y.A.L.E. School offers a highly specialized program for students with autism that provides low student-to-staff ratios, supervision by highly trained and certified behavior specialist, a comprehensive curriculum, intensive transition support, integrated and consultative speech services, support for families and an extended school year program in the summer. Since 1976, students with disabilities have been placed at Y.A.L.E. School locations by their local school district and attend at no cost to parents.
Jefferson Health, home of Sidney Kimmel Medical College, is reimagining health care in the greater Philadelphia region and southern New Jersey. Jefferson's dedicated team of doctors, nurses, health professionals, and staff provides a range of primary to highly-specialized care through 14 hospitals (seven are Magnet®-designated by the ANCC for nursing excellence), more than 40 outpatient and urgent care locations, the NCI-designated Sidney Kimmel Cancer Center, Magee Rehabilitation and the JeffConnect® telemedicine program. For 2020-2021, Thomas Jefferson University Hospitals is ranked among the nation's best hospitals in nine specialties by U.S. News & World Report. Jefferson Health's mission is to improve the lives of patients in the communities it is privileged to serve through safe, effective, equitable, compassionate care.