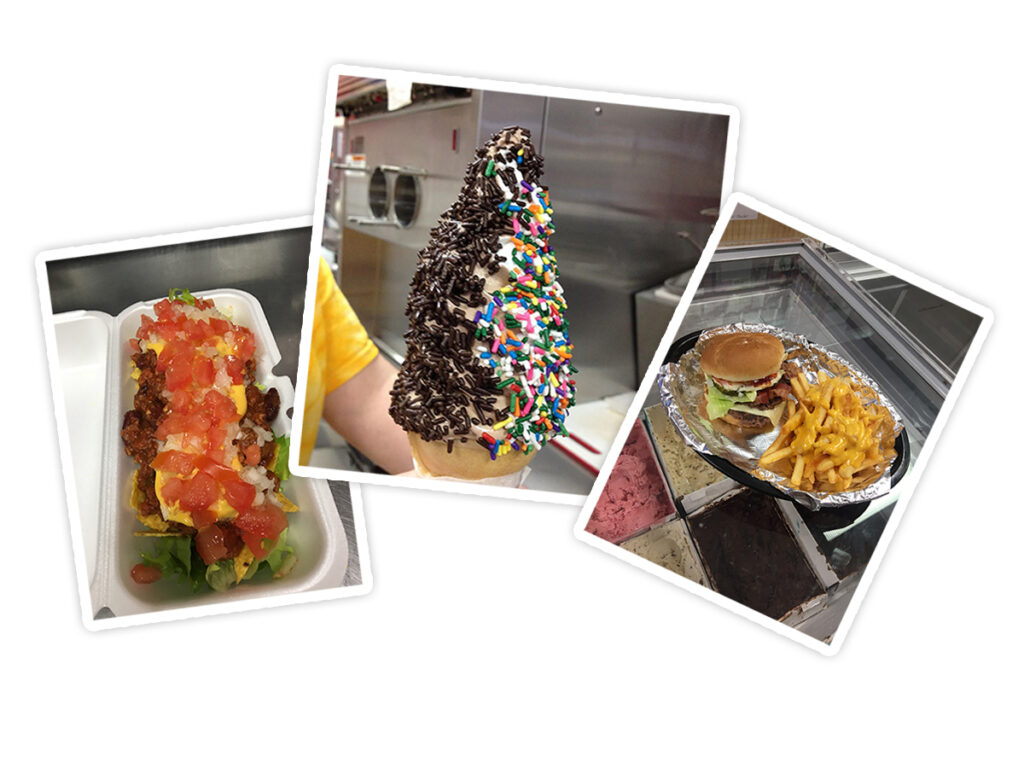 There's nothing small about the food, fun and delicious homemade ice cream found at Dinky's Ice Cream Parlors in Bangor and Bethlehem. Founded in 2012 by Norman "Mr. Dinky" Matthews and his wife Jill, Dinky's Ice Cream Parlor is an authentic slice of the 1950's with 21st century appeal.
"Norm always loved the 1950's era," said Jill "Mama Dink" Matthews. "As a child he was an avid fan of the TV show "Happy Days" and dreamed of opening an ice cream parlor similar to Arnold's, which was the malt shop where Richie Cunningham and friends would hang out. We wanted to open ice cream parlors that would be nice places for kids to go after school."
In 2012, when a back injury ended Norm's trucking career, he sold his beloved 1957 Chevy Bel Air and used the money to open the Bangor restaurant. In 2020, Norm and Jill opened their Bethlehem location.
The nickname, Mr. Dinky, was given to Norm by his father when Norm was just a baby. Today, it represents the friendly atmosphere and good times that are synonymous with the restaurants. According to Matthews, employees at Dinky's Ice Cream Parlors are encouraged to greet customers with a positive, helpful attitude.
"We want our customers to feel important, like welcome guests," Matthews said. "Our employees are like part of our family and so are many of loyal customers."
Dinky's Ice Cream Parlors have gained recognition for their delicious homemade ice cream, mouthwatering burgers, signature special sauces and Mama Dink's home-baked cookies.
The ice cream served at Dinky's is always fresh. Matthews noted that Dinky's does not overstock ice cream to limit time in the freezer. Dinky's typically offers around 28 flavors as well as soft-serve ice cream that comes from a unique flavor enhancing system.
"Our hard ice cream is made by a local family-run business that has been producing top-quality homemade ice cream since 1967," she said. "Norm also loves soft serve ice cream, but he didn't want to be limited to chocolate, vanilla and twist varieties. We purchase a special system that can inject additional flavors into our soft serve to make it more exciting. Guests also love our Italian ice and vegan ice cream."
The food at Dinky's is as fresh and original as its ice cream. Norm is well-known for his chili recipe as well as his homemade bacon jam and special onion ring sauce. From custom burger creations to shrimp tacos, chicken tenders, mozzarella sticks, pulled pork, fried mac-n-cheese balls, perogies, vegan burgers and much more, everyone will find something to love at Dinky's.
"We think of our menu as comfort food," Matthews explained. "And we try to be creative. Our sons Logan and Norm have each invented their own special burger."
Logan's burger recipe, called the American Fat Boy, is a heaping cheeseburger topped with bacon, two mozzarella sticks and two onion rings. Norm's Bethlehem Beast Burger is adorned with bacon, pulled BBQ pork, coleslaw, baked beans, & American cheese. According to Norm, "It's like a picnic in your mouth."
Two additional Dinky's favorites are the All That Jazz Burger topped with bacon jam, cheese, onion ring sauce, and pickles and the Robbie Bobby Burger stacked with three onion rings, bacon jam, cheese, onion ring, sauce and pickles.
Entertainment is also part of the good times at Dinky's. Recently, Dinky's Bethlehem has started booking bands and singers twice per month. Dinky's Bangor, which is a slightly smaller venue, sits adjacent to a public courtyard where people can relax at tables, enjoy their food and listen to local artists perform.
"We've worked hard to offer great ice cream, great food and good company," Matthews said. "Our goal for Dinky's is to be someplace you always leave with a smile."
Dinky's Ice Cream Parlors are located at 103 Broadway in Bangor,  (610) 588-1131 and 312 East 3rd St., Suite 102 in Bethlehem, (610) 419-4716. Visit www.dinkysicecream.com for more information.