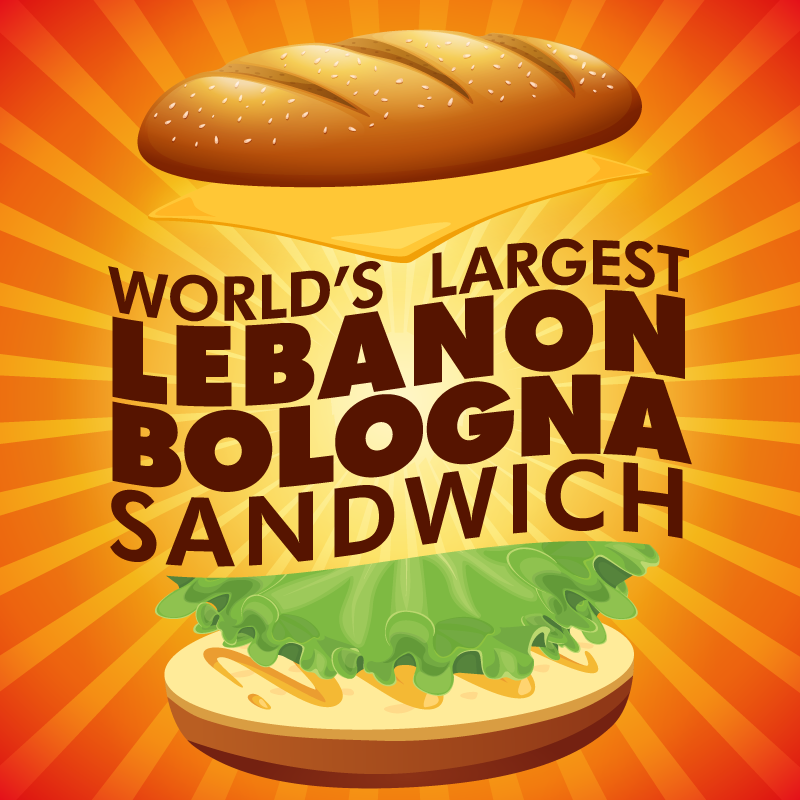 Visit Lebanon Valley is teaming up with local businesses to create the world's largest Lebanon bologna sandwich at the Lebanon Area Fair.
Taking place from 5 to 7 p.m. on July 25, it's going to be the event of the summer. With great taste and an even greater impact, the sandwich will not only break records but also help fight hunger in the Lebanon Valley through friends at Lebanon County Christian Ministries (LCCM).
Featuring Lebanon bologna from Seltzer's Smokehouse Meats and bread from Chef Peffley at the Lebanon County Career and Technology Center, the sandwich will be assembled and unveiled during the Fair's Community Night. All fairgoers are encouraged to watch the build and even enjoy a free slice of the completed sandwich along with plenty of toppings from the accompanying fixin's bar. It may not be verified by Guinness World Records, but this sandwich's going to be big … and full of Lebanon Bologna.
Before the event, help "take a bite out of hunger" by sponsoring a 1-foot "bite" of the sandwich. Each foot-long sponsorship is $100, open to businesses and individuals, and will go directly to Lebanon County Christian Ministries as a tax-deductible donation. With a goal of a 150-foot sandwich, that's a potential of $15,000 to be donated to LCCM. Let's make it happen, look how far your dollars can go.
$100 provides 50 free noon meals
$200 provides a family of four with a supplemental food order
$500 provides food for 10 single person households
Interested in donating? Become a sponsor using our Google Form:
About Visit Lebanon Valley
Visit Lebanon Valley is the official tourism office for Lebanon County, promoting visitor travel while highlighting the Lebanon Valley's unique attractions and local businesses. From exploring the expansive outdoors, to discovering well-preserved historic architecture, to enjoying fresh produce from roadside stands, Visit Lebanon Valley shares all the appeal that makes this area truly special for visitors and locals.
To learn more visit www.VisitLebanonValley.com.