Organizers of the Tour de Elizabeth are thrilled to announce that registration is now open for the 20th Annual Tour de Elizabeth, scheduled rain or shine for May 21. The annual recreational 15-mile bicycle ride tours the residences, businesses, restaurants and historic neighborhoods of Elizabeth and offers cyclists a unique perspective of New Jersey's fourth largest and oldest city.
"What better way to spend a Sunday than bike riding with family and friends," said Mayor J. Christian Bollwage. "This year we're celebrating 20 years of bringing cyclists of all skill levels together in Elizabeth, all while supporting Groundwork Elizabeth's efforts for a greener and more sustainable municipality. I am looking forward to welcoming everyone for yet another safe and exciting 15-mile ride."
This is the 20th Anniversary of the event, which attracts riders from Elizabeth and even farther points of the state and beyond. The event starts and finishes at City Hall in Elizabeth, located at 50 Winfield Scott Plaza and registration begins at 7 a.m. with the ride beginning promptly at 9 a.m. The first 500 registrants will receive a signature Tour de Elizabeth T-shirt and everyone will be entered into a free raffle for post event drawings. Last year riders were invited to wear costumes representing their favorite superhero and this practice will be embraced for 2023 as well. All costumes should be safe for riding a bicycle.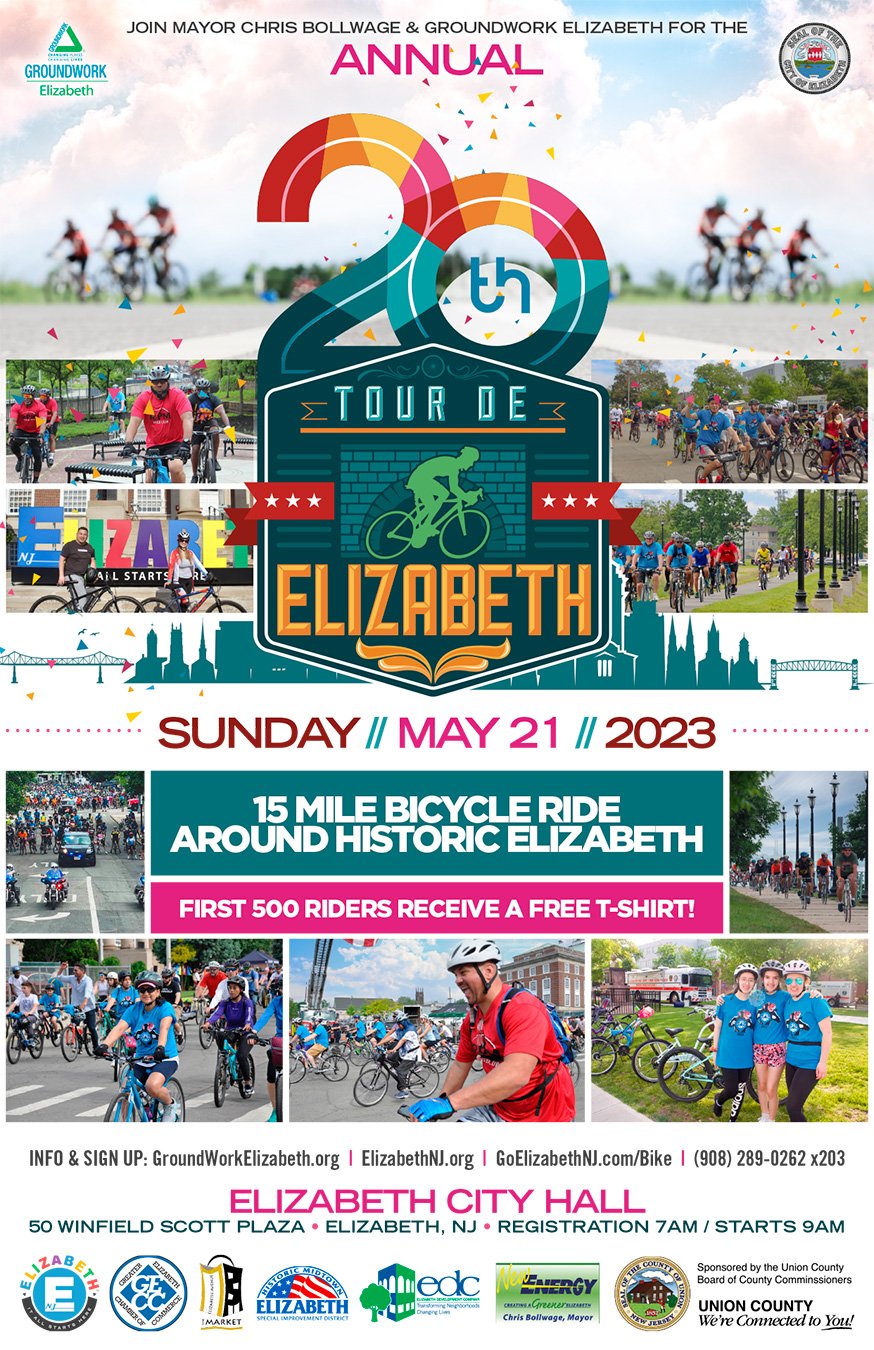 Registration is open at www.groundworkelizabeth.org and riders are encouraged to sign up early as slots fill up quickly. All ages are welcome to join the Tour, as long as the rider can keep a moderate pace of 10 miles per hour and able to ride 15 miles — there is a break at the halfway mark. Helmets are required for all participants. Members of the Elizabeth Police Department will be on hand to escort cyclists on a route with rolling intersection closings and assist where needed.
Along with the support of Mayor Bollwage and departments within the City of Elizabeth, assistance for the ride comes from the Union County Board of County Commissioners HEART grant, the Elizabeth Destination Marketing Organization (EDMO), local community nonprofits and stakeholders, with special support by Elizabethtown Gas Company. The ride is managed by Groundwork Elizabeth.
To sign up for the ride, visit www.groundworkelizabeth.org. Hard copy applications can be found in Elizabeth public buildings, stores and Union County Bicycle shops, however, online registration is preferred. Those wanting to rent a bicycle for the event can log onto www.unlimitedbiking.com/events/tour-de-elizabeth- bike-rentals/.
Sponsorship opportunities are available and come with benefits for those who pledge support. Part of the proceeds will be donated to the non-profit organization Groundwork Elizabeth, whose mission is to build more healthy, green and sustainable communities. For more information on Groundwork's projects and programs log on to www.groundworkelizabeth.org. Questions can be directed to Jonathan Phillips, Groundwork executive director at [email protected]. or by calling 908-289-0262.